Increasing popularity of the vinyl floor is a fact.
There is nothing strange about that, taking into consideration strong advantages of this products. This product is a perfect solution for installation with underfloor heating, it is durable, waterproof and, opposite to laminate floor, vinyl floors are quite with steps. Despite its relative short presence on the market, there is some misleading opinions on the web. In this article we clarify the biggest pros and cons of this category. We will explain if the comparison between floors installed with glue (dryback) and with locking system should be a case. What are the opinions that comes with using this floors? We invite you to read the article below.
Vinyl planks, vinyl floor or LVT?
Let's start with how this category actually should be named? Vinyl planks? Vinyl floor? Vinyls? LVT? There are lots of different names you can read. Typically "vinyl products" are products produced from synthetic materials or its combination with others materials. A multilayer construction can be shaped in rectangular "boards" like wood floor or laminate floor or more square like ceramic tiles.
Common feature is waterproofness. It is commonly to call this category in reference to floating floor installed with click system. Vinyl floors is a wider group that including products installed with glue – dryback. On the other hand LVT is a abbreviation from luxury vinyl tiles and it is the most common description that you can meet in professional catalogues.  
What are the types of floors and planks that can be selected?
Vinyl floor is the broad category referring to larger group of products. There are at least 6 sections, and each of them covers a few smaller subdivisions. The most popular distinction is the one based on the installation method:
floating floor – installed with the click system, that require underlay
dryback – installed with glue and permanently bonded with the subfloor
loose-lay – installed without any bonding material, mainly used in commercial areas (shopping malls, office centres
DRYBACK – vinyl floors installed with glue
First of ways to install the floor are so called drybacks – installed with glue.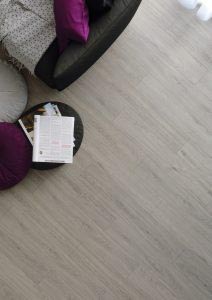 This types of floors is usually very flexible and it has 2-2,5mm thickness. They require perfectly smooth subfloor so screed need to be done very precise. Glues for LVT bond extremely well and combined with high flexibility of the planks causes that any subfloor irregularities leaves a mark on the floor surface. Installing dryback floor is not easy. It is wise to use some professional assistance or to completely outsource the installation of this product. Especially for the first time installation. This type of floors can be used for renovation and can be installed on ceramic tiles that has been already fitted. Of course there is the same requirement regarding levelling – subfloor has to be smooth.
If you have decided to install this floor, ensure that you will proceed with the guidelines- prepare smooth, level screed and you will be able to enjoy the durable and quiet floor. Additional benefit would be the highest efficiency of underfloor heating system. Professional glues creates solid moisture barrier, so you can use the dryback floor without hesitation when water spill are likely, even in the showering area. This type of floor does not require any dilatation and profiles between the rooms.
Revolution in DIY shops? Self-adhesive planks are widely available in this selling channel.

Self-adhesive floor has thin layer of glue sprayed on the back surface of the plank and protected with paper film. Advertised as very easy solution- peel off and stick to subfloor, has appealing vibe to it. As usually it is all about details. Those types of vinyl planks cannot be glue to concrete subfloor. Every grain of the concrete or sand can be potentially visible after installation and reduce the bonding strength of glue. This solution is very often offered as a perfect renovation solution, that can be installed on existing ceramic tiles floor. In reality, because this type of floor is so flexible it is really hard to install on ceramic tiles as the joints would be visible. For perfect look probably new screed would be necessary. Undoubtedly the biggest advantage of self-adhesive floor is a price. They can be purchased for as little as 9 EUR / m2.
VINYL PLANKS INSTALLED WITH CLICK SYSTEM – What is a floating floor?
Floating floor means that floor planks has no permanent attachment to subfloor. Planks are joined by carefully drilled lock in the side panel. Thanks to this solution mechanical connection is secured often with distinctive "click" sound while installation. This types of floor is installed on a dedicated underlay that provides support for locking system, which can be accidentally damaged.
First generation of vinyl floor – modified laminate floor
This type of floor is not as different from a standard laminate as it may seem. The core of the panel is an MDF board with vinyl layer glued on top. This hybrid construction provide partially waterproofness. Because of the core it can still absorb water and can be damaged. It is also not as efficient with underfloor heating installation. This solution can be still found in offer from German producers that still opt for this technology.
Multilayer vinyl panels – build totally from PVC
This is the most common solution. In time this become synonymous for vinyl floor in many countries and "LVT" mostly refer to this category. Panels in this category are 4-5 mm thick (you can find thinner panels but durability can be an issue). In general they are built from three elements:
core is build 100% from PVC with embedded fiberglass layer,
decorative layer and
lacquer finishing providing scratch resistance and durability.
The locking system is contoured in the core and because of the thickness and flexibility it tend to be the weakest part of the build. Even as little as 1mm thick product can be found on the market, which can be easily broken, even with your fingers. Then it is even more crucial to install them on the good quality underlay, as it will ensures to compensate weakest points. The main advantage for this product is its supreme performance with underfloor heating installation. It is also widely available so there is many colours to choose from.
It is worth mentioning that this product has also great acoustic performance, especially small reverb while walking. Additionally they are pleasant and warm to touch (opposite to coldness of ceramic tiles). To disadvantages side it has to be pointed that this type of floor is sensitive for temperature changes and dimension instability that follow. It is not advised to install this floor on areas with great sun exposure. Also dilatation gap is a must between rooms to prevent deformation of surface.
Rigid, low density core panels – WPC/EPC
This is the most popular product in DIY markets. With EPC (extruded polymer core) product construction of the core is different that described in previous paragraph. The core is built from mixture of PVC and chalk that is extruded. Thanks to this process final product is very light. Unfortunately it has major impact on the durability and hardness of the surface. Core filled with air can be easily damaged (f.e. with falling objects). It is also less effective with underfloor heating system, but for the rest is not much different than multilayer floor.
Rigid high density core panels – SPC/RIGID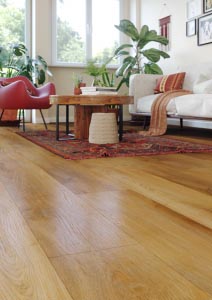 It is the most modern technology of floor production. The main feature of this category is rigid core, extremely durable with great heat conductivity. The SPC stands for Solid Polymer Core. They have all advantages of PVC panels without the main drawback, which is lack of dimension stability under variable temperature conditions. An example of this technology is HD Mineral Core floor from Arbiton and Afirmax. Core compound is based on the natural rock minerals and modern polymers. It ensures great impact resistance and is excellent with underfloor heating systems.
The Arbiton and Afirmax floors additionally are as beautiful as wood and as practical as ceramic tiles. The top layer closely matched with real wood still providing practicality of ceramic tiles. Dimension stability allows to install up to 200 m2 without any additional dilatation. There is no need to introduce floor profile between the rooms. This types of floors is quickly getting lots of satisfied owners who are complementing beautiful natural colors and structure as well as easy maintenance.
Vinyl floor with dedicated specialized underlay or vinyl floor with integrated underlay
It is common opinion that for vinyl floor installation there is a necessity of having perfectly flat subfloor. It is true, but only partially and refers to dryback floor. Rigid panel f.e. with HD Mineral Core , can be installed on a subfloor in newly build apartments. You still need to use dedicated underlay as it ensures that the floor will be durable and lock would be protected. Good underlay also help with acoustic performance of the floor system. It reduces acoustic noise being transmitted through to lower rooms and dampens the noises reflected from the floor – f.e. while walking. Underlays that follow MMFA recommendations will guarantee that the floor will be additionally protected from the impact of falling objects and less exposed to cracking.
There is also lots of vinyl rigid planks with integrated underlay. The main drawback of this solution is that the underlay does not protect lock as it applied only on the main part of the plank. This unfortunately increase the risk of breaking locks as there is a gap under the lock and more space for potential movement. Integrated underlay does help with acoustic performance but it is also true that those types of plank very often are combined with questionable quality of underlay. To sum up, floor with dedicated underlay can last for long years (passes simulations of up to 10 years of usage) opposite to floor with integrated underlay that can last for few years.
Who can be interested in vinyl floor?
Thanks to unique features and properties vinyl floor increase its popularity. Multiplicity of technologies and available solutions makes it hard to choose so it is reasonable to consult with expert. Nowadays vinyl floor is not only a wooden and laminate floor competitor. It is well established category with many satisfied customers. It is a perfect solution for quality seekers, who appreciate beauty of wooden floor combined with durability of ceramic tiles.