Underfloor heating is a trendy solution for newly build houses. It is also substantial expense and technological challenge. If you plan to invest in this kind of heating system, make sure to choose the most effective on the table. How to do that? The key point is right selection of materials, which perfectly harmonize with underfloor heating system of your choice to create efficient and economical system. We would like to show you 5 most popular misconception about underfloor heating.
1) Vinyl tiles are always suitable for underfloor heating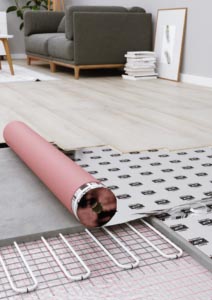 According to 'Underfloor heating market' study from Global Market Insight, this section of housing will grow till 2025 from current 5,5 billion USD to more than 9 billion USD. It means yearly grow at the rate of 7%. But it is worth remembering that this includes various categories of underfloor heating. There are three main categories to be aware of: water pipers (the most common), electrical (increasing in popularity) and air pipes.
As we said, the most common type of underfloor heating is the water pipes system. This is a system of plastic or metal pipes with warm water. They are placed directly on thermal and humidity isolation and covered with screed. Following onto this, floor underlay and the panels are installed (laminates, vinyl or wooden). Electrical underfloor heating consist of three separate systems that can be used. First is a system of heating cables, which is the most popular. It is being laid before the screed. Second option are heating mats. Its special net with heating cables, installed in the layer of glue or self-levelling compound right underneath ceramic tiles. Going to third option, which is heating foil. Heating foil is made from flattened aluminium wires embedded in polyester foil. It is very thin, with just 0,2mm.
Generally those three systems can be split into two groups – direct, where heating wires are just underneath the flooring systems covered by glue or accumulative, where wires or pipes are covered with 7-10 cm screed, taking the role of heat storage.
Choosing one or another heating solution, brings several consequence that are worth considering regarding materials that can be used on top of the heating systems. For example vinyl tiles (also click rigid) are very good choice for water based and electrical underfloor heating but only if covered in the screed. There are no solution that we are aware to allows lay the vinyl flooring directly on top heating mats or infrared heated. Choosing those types of system sit is worth having tis in the back of your head.
2) You can use only ceramic tiles on underfloor heating system
There are multiple opinions, that because of low thermal impedance you can only use ceramic tiles. It is typically being used in bathrooms, kitchens, halls where the underfloor heating systems are performing really well. On the other hand, it does not means that this is the only option. There are many sceptics of this material, who are looking for alternative design and would like to have natural wood in their interiors and would not like to resign from underfloor heating. Luckily for those people, there are for example vinyl click flooring, that provides wood-like look and are almost as efficient as ceramic tiles. Vinyl click flooring with rigid mineral core are pleasant to touch, have natural wood structure impressed on the surface and most important have very good thermal conductivity. To be absolutely sure that you are choosing right floor, check the technical data sheet (both underlay and floor panels) and in case of doubts choose the one with lower R value.
In case there already is a underfloor heating system with ceramic tiles on top installed and you would like to change the look of a interior without cumbersome hammering the tiles you can still use vinyl tiles with relative lowest thermal impedance factor.
3) Laminate flooring is always a good solution for underfloor heating
There are many producers that promote laminate flooring as an ideal product for underfloor heating covering. For sure there are some laminate panels that will be suitable for this installation but in general laminate flooring, because of its thickness are not the most suitable for this usage. Mentioned above vinyl floor have significantly better thermal conductivity. However it does not mean that laminate flooring cannot be used. There are two points: low thermal impedance of the floor itself and the most effective underlay for laminate flooring. Taking those two into consideration you should be able to provide right products effective usage of underfloor heating.
Underlays dedicated for underfloor heating systems especially for laminate flooring have very low thermal resistance factor. Using carefully selected one your wallet can save substantial amount of money on the heating season. Recently we observe rapid increase in Polyurethane underlays availability on the market. They provide the best on the market acoustic insulation and reduction of airborne sounds (30% better than traditional underlays). They are also more durable on static load which improve their ability to protect locking system. But what is the most important is the very low thermal resistance that makes them perfect underlayment combined with underfloor heating. They can be also used even without heating system when acoustic and durability is a priority. Then just make sure that CS, RWS or IS parameters are on the best possible level.
This means they are perfect fit for underfloor heating systems and had real impact on the running costs. Multiprotec 3in1 are also the only one premium underlays, that combines 3 elements- underlayment, damp proof membrane and overlap of foil with adhesive tape. This design create solid moisture barrier right after installation.
Underfloor heating system is a big expense, so there is a real concern for this system to be as effective as possible. Only the best on the market products will guarantee comfortable and effective usage of the heat. Not only good underlay will improve acoustic parameters of the room but will have a real impact on your home budget.
4) Underlays with holes are the best for underfloor heating
There has been several different types of underlays flooding the market that claims to be ideal for underfloor heating. Majority of them are made from extruded polystyrene and have differently shaped cut outs. Those products are advertised as perfect for underfloor heating. Unfortunately reality and physics ins not supporting those claims. There is few things that are wrong about it. Because of those wholes underlay is not supporting flooring in an equal manner – is not creating equal layer hence the locking system might be broken. But back to heat conductivity. First of all you get product that differ in properties depending of the place. Once it is a XPS underlay with particular R value and another time is acting as an isolation as the low density air is not conducting heat very well.
Thermal resistance [R] is an reciprocal to heat that run through 1 m2 in 1 hour with 1⁰C and is expressed in [m2K/W]. The higher the R value the more material is acting as an isolator. So it is crucial to look for lowest possible R for underfloor heating.
When it comes to perforated underlays, to calculate the R value you would need to average the values taken in place with underlay and place with hole. For example 3mm XPS underlay has around 0,11 m2K/W so already we are above recommended 0.075 m2K/W for effective underfloor heating system. It means that perforated underlay is around 60% worse than max recommended value.
So we strongly advice for underlays without holes as there are major flaws to the perforated once – not only thermal but durability wise as well.
5) Dryback panels are the best for underfloor heating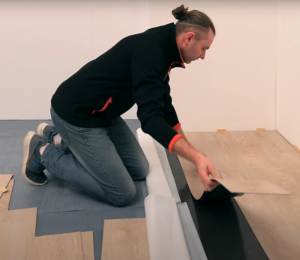 It is a fact, that dryback vinyl panels are very good choice for underfloor heating. The only drawback is that they require perfectly prepared subfloor, which not always can be done. Smart alternative is vinyl click flooring, which thanks to using adequate underlay do not have those strict requirements. Click floor has precise locks that require additional support. We need to remember that not only the underlay will secure efficiency for the heating system but will also improve acoustic performance of the system. Really good choice, than will lead to savings in bills are underlays made from polyurethane with minerals. This purchase will return just after few years. Important thing is also to use proper underlay marked as dedicated for LVT as then producers would also honour the warranty if something would need replacement.