Until now, large-format flooring materials have been the domain of ceramic tiles or real wood. The unique format, both in the form of large squares and long "board" formats, was associated with a higher price. Often the price even exceeded EUR 70 per m2. Meanwhile, there are technologically newer floor coverings on the market today. A complete novelty are large-format vinyl click planks with a HD mineral core. The new collection from ARBITON brand, Amaron Superiore, is 5 mm thick rigid vinyl click planks that are longer than the average height in Europe. 183 centimetres long planks create a beautiful floor that impresses.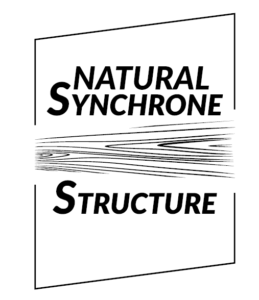 The latest collection of large-format vinyl click planks from the Arbiton brand – Amaron Superiore, is certainly one of the longest vinyl planks available in Europe. They are 183 cm long, thanks to such an impressive length they look very effective and natural. The Synchronous Structure (Natural Synchrone Structure) Arbiton Superiore panels owe to the embossed in register (EIR) technique, thanks to which, for the first time in vinyl panels with a HD mineral core, the indentations in the board perfectly match the wood pattern on the decorative layer. This technology creates the effect of a faithful reproduction of the wood and its naturalness, which is enhanced by a deeply matte, elegant lacquered finish. The panels are covered with a patented Titanium Nano Layer coating, which provides up to 30% higher scratch resistance compared to standard vinyl planks. Like all panels from the Amaron line, the Superiore collection is completely waterproof, very quiet and works effectively with underfloor heating systems. ARBITON Amaron Superiore is a collection consisting of four natural shades. Every lover of large formats in floor coverings will find something for themselves. The Superiore collection includes 4 oak colors – Gaillarde, Weisshorn, Patendorf and Stamberger.
Amaron Superiore – create a uniform floor throughout the house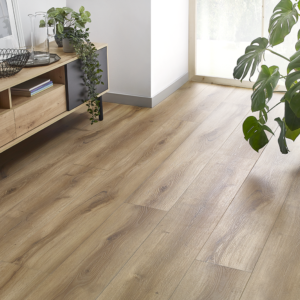 Home-office and home-schooling meant that we have spent much more time at home. There was a need for our flats to fulfil more functions, not only allowing to work and learn more freely, but also to relax more comfortably. The new reality requires a different approach to designing coherent interiors. A uniform floor throughout the apartment allows you to introduce the necessary serenity and peace into the rooms, as well as facilitate moving freely. Arbiton vinyl click panels are a product that can be laid even on a surface of 200 m2 without the need to create additional dilatations between rooms and taking into account joints between different types of floors. This is often related not only to different materials but also to level differences, which are not always a appreciate accent. By using Arbiton vinyl click panels, we gain amazing opportunities to create a unique and homogeneous space. Thanks to the use of Amaron Superiore large-format vinyl click panels, we obtain a smooth, monolithic surface. The number of connections is minimized, making the rooms appear larger than they really are. Large vinyl planks are a perfect background for many arrangements and emphasize the modern character of the space. Vinyls of above-average size are storming Polish homes, conquering the hearts of lovers of design and ecology.
Large-format vinyl click planks – a solution for architects
Producers of floors, both wooden, vinyl and ceramic, have noticed that customers are increasingly choosing products of large sizes. Floorboards with a length of more than two meters appeared on the market. Large-format slabs are the fastest growing segment in the range of ceramic tiles products. Today, we can easily buy ceramic tiles with dimensions exceeding 1×3 meters. Such tiles perfectly imitate marble or concrete. New trends in interior design, focusing on lightness, simplicity of form and open spaces allow them to play a new, even more significant role. Large-format tiles on the wall and on the floor go well with raw interiors, emphasizing their timeless character. However, they will also work well in rustic interiors, and even in a glamor style. By using large-format XXL tiles, we can obtain smooth, almost seamless surfaces.
Large formats on the floor make the space optically larger and more consistent. Fewer joints make the room appear higher. Amaron Superiore large-format vinyl click planks are 1830 mm long and 229 mm wide. It is a collection created for the most demanding customers. In addition, the panels are equipped with a synchronous structure that reflects the depth of natural wood and a deeply matte, varnished, very scratch-resistant surface.
Natural colors of the panels – HIT 2021
2021 is the year when most designers move away from cold, minimalist Scandinavian designs. A warmer style has been introduced and the designed interiors are closer to the Danish hygge philosophy. Light, oak colors reign supreme on our floors. They account for almost 30% of all decors offered by flooring manufacturers. Oak is not only a synonym for a luxurious floor, but also the most common colloquial term for the bright and warm color of the boards. Boards with oak grain and light color are the perfect background for more extravagant accessories. Light oak colors on the floor will not dominate the interior. They will be the perfect background for both Scandinavian and glamor interiors. A floor in a natural oak color also goes well with walls in strong, saturated colors. It will be an interesting counterpoint to the color of 2021 – grey combined with lemon yellow.
Superiore is available in four shades of oak:
Patendorf Oak – a very warm and natural shade that brings to mind the memories of Austrian ski resorts. It is characterized by medium graining. Perfect for both modern interiors and those referring to tradition.
Gaillarde Oak – is a lighter shade with fewer rings. A perfectly presented drawing of wood will win the hearts of every nature lover. A light shade will look good even in smaller interiors.
Weisshorn Oak is the brightest color in the collection. This whitewashed oak has a lot of fans nowadays. Thanks to the printing technology used, this color looks very natural and elegant. Weisshorn oak will be a perfect match for both glamorous and Scandinavian interiors. The unobtrusive shade is the perfect base for stronger color accents.
Stamberger Oak – the warmest color in the Superiore collection. It fits perfectly into the currently fashionable hygge trend. A warm color will envelop any interior and give it a home-like character. This color will work both in a suburban townhouse and in an atmospheric mountain cottage.
Beautiful and practical – a recipe for the perfect floor
Vinyl click panels are not only pretty, but also very practical. Amaron Superiore panels are a product of the newest generation. It has a hard, high density mineral core that allows it to be laid on an area of ​​up to 200 m2 without the need for additional expansion joints between rooms. It's hard not to be delighted with a product that looks like natural wood and at the same time has all the advantages of ceramic tiles. Vinyl click floors are one of the most practical surfaces on the market – easy to clean, waterproof and at the same time as easy and fast to install as classic laminate panels. Vinyl click floors from Arbiton are completely waterproof, so they can even be installed in kitchens and bathrooms. They are characterized by low heat resistance, so they are an ideal material for use together with an underfloor heating system. Like wooden floors, they are quiet and warm, and at the same time very durable. They are perfect not only for homes but also for public utility buildings. The assignment of this floor to utility classes 33 and 42 is the best proof of this.