Looking for inspirations? Would you like to give your apartment a new look?
Here you find some information you should consider. There is a big chance that you will fit new floor. So it is good to know latest inspiring trends in flooring that will help you create well designed and modern interior.
FIRST INSPIRATION: BRIGHT OAK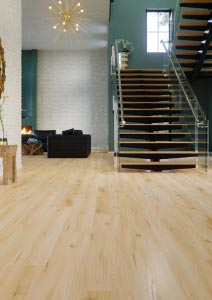 For spring 2020 manufacturers decided to go for natural. Bright oak, which is ideal supplement for almost every composition is on top. In the beginning of March Afrimax introduced collection of 10 designs all in oak texture. For colors are completely new, created by A.Design Studio. Arbiton on the other hand included two new colors to Liberal Collection. Also three new colors to its flagship collection Amaron has been intoroduced.
All inspirations for novelties are based on an oak texture, natural, bright that closely reflect real wood. Bright floor will not be the main feature in the interior. It will naturally blend into project creating cosiness and homely feeling. Oak would be perfect for Scandinavian and glamour styles. Light shades of floors will be great match for intensive, saturated colors on the walls. They will nicely balance for the color of the year – dark navy blue or bottle green.
SECOND INSPIRATION: LVT
LVT floors expand on the different markets across Europe. It is hard not to admire this type of flooring as it looks similar to the wooden floors. But it has all advantages of ceramic tiles. Vinyl flooring are one of the most practical floor coverings on the market. Easy to maintain, clean, waterproof and at the same time very easy to install. There are also rigid type vinyl floors. They are more durable and thanks to its great dimensional stability can be fit in the most sunny areas and up to 200 m2 without additional dilatation.
Exept above vinyl floors are waterproof so can be installed in kitchen or even in bathroom. Great benefit is also a low thermal resistance that makes this product perfect for underfloor heating. Similar to wooden floor, LVT are not reflecting lot of noise and are warm to touch and yet really durable. They are perfectly suited for domestic and commercial usage.
THIRD INSPIRATION: HERRINGBONE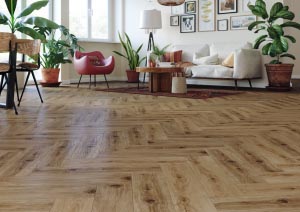 Used to be main decorative method of Europeans apartment house and suburban villas. Today can be introduced to every apartment. From two years in Milan interior fair, herringbone is a hot interior trend – a 45 degree angle between planks gives uniqueness and elegance to every application. Feel free to look for inspirations in this pattern. Up to know this method was limited to parquets and wooden floors.
This year novelty from Decora are LVT floor with HD Mineral Core in Arbiton Amaron collection, which can be installed in herringbone pattern. It was possible thanks to specials lock which allows this particular installation pattern. If you want to introduce elegance and luxury to interior this is the way to go. This is the choice that would delight you for a long time.