A principle of any house construction are solid foundations. This is the element that building starts.
You shouldn't spare resources on this as this is element which will influence next steps of the build. Similar situation refers to floor fitting. The most important factor is the quality of underlay. It would influence comfort of usage, effectiveness of underfloor heating or acoustic comfort in the room.
Typically, choosing the right underlay is the stage that you dedicated the least time instore. Main point of interest is choosing the floor.  Decor, sizes, textures. Next step is considering technical properties. From polish market experience underlay is chosen at the final stage of purchase. Clients very often delegate this decision on salesperson asking for not the most expensive option.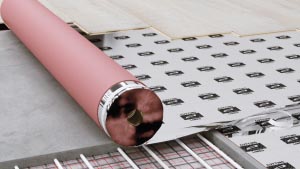 Meanwhile, underlay is crucial element and its quality have a great impact on durability of the floor covering.
Confidence that you are using quality product comes with the price around 30 zł/m2 (7-8 EUR/m2). Why it is worth spending this money?
Recently there is a new kind of products on the market. PUM underlays (polyurethanes with minerals). They are exceptional when it comes to reduction of walking sounds on the floor (even 30% less noise compared with traditional underlay for laminate). They are also more resistant to compressive pressure and protects floor from locks damaging. But the most important advantage is a low factor of thermal resistant. This makes PUM products perfect for implementation with underfloor heating systems.
– According to "Underfloor Heating Market", research made by Global Market Insights, underfloor heating segment will grow till 2025 from current 5,5 billions USD to over 9 billions USD- said Artur Tomikowski, marketing director in Decora which produce underlays PUM Multiprotec 3in1. This means that this segment will develop in 7% yearly growth. That's why we are investing in technology dedicated for producing products dedicated for underfloor heating– added Artur Tomikowski.
Multiprotec underlays have the lowest thermal resistance factor, which indicates its implementation in underfloor heating systems.
Moreover, they reduce costs of heating apartments. Multiprotec 3in1 is also the only solution in the market which combines three elements. First is underlay substrate,  second moisture prevention foil. Third element is adhesive tape integrated in one product. This solution allows to install perfectly solid moisture barrier.
Underfloor heating is expensive element of a build hence should be made in the most effective way. Only the best products will secure thermal comfort and convenient, cost effective usage of underfloor heating system. Well-chosen product will guarantee not only these but also will enhance silent and durable floor. For this reasons underlays should not be treated as necessary accessory but customers should not spare on good one.