If you have decided to buy vinyl click planks, then you are facing a choice that will influence whether you will be completely satisfied with this floor in the future. The underlay is an invisible element hidden under the panel, to which we do not pay much attention. This is a big mistake. Because the underlay has to provide protective function for the panels. Thanks to the appropriate hardness and flexibility, it protects the floor against micro-damage. Using more down-to-earth analogies, the underlay function as some kind of shock absorber that protects our entire floor. Without it, particularly exposed to damage areas such as panel locking systems can quickly deteriorate. It is worth choosing floor underlays from proven European producers because they bring quality and long-term warranties to the table. An invisible and inconspicuous vinyl flooring underlay is an element that can make our vinyl planks either look beautiful longer, or on the contrary – quickly damage. Therefore, when choosing a floor underlay, you should not compromise and focus on quality and proven properties.
Floating system and underlay for panels
More and more vinyl planks are sold in the well-known, also from laminate flooring, floating system. This means that the panels are joined together with milled locks without being permanently attached to the ground. The "click" system, also known as "floating", is an excellent choice when you want to lay the floor yourself in true DIY fashion. If you have a typical flat bought from a developer, the chances are hight that screed would not be ultra-smooth, therefore click vinyl will also be a good choice. They will also prove useful during renovation and when we want quick, spectacular results. In the floating system, the panels are connected thanks to locks. There are various mounting systems – 2G, 5G or fall down locks, e.g. 5Gi. The 5G lock is the latest patented system by the Swedish company Valinge. The panels are connected in it by inserting the long side of the board into the lock profile and lowering it downwards. When we connect two panels correctly, we will hear a characteristic sound of the so-called click. 2G type locking system, which have been proven for years, are also very good. Panels are mounted at an angle on both the short and long sides. The connection in this type of locks is mechanical – profiled elements interlock to create a durable, secure connection that protects against different forces acting in various directions on the flooring system. The assembly does not require any tools, and you do not tap the locks with a hammer. Fall down locking are used, for example, in the case of vinyl panels, which can be arranged in a characteristic herringbone pattern, in this case the lock on the short side is placed perpendicularly and tapped down with a rubber hammer. Regardless of the type of connection, vinyl panel locks, due to the precise cut-out, are the element most exposed to mechanical damage. Therefore, in order to protect them, we must choose a floor underlay that will provide a stable and durable substrate that will take all the stresses and protect the panels at the same time.
A good foundation is a tested foundation
Before they reach the market, floor underlays must undergo dozens of tests to determine their quality and objective parameters required by norms and governs bodies. Good manufacturers of underlays are clearly presenting the results of these tests. Thanks to this, customers can precisely determine which underlay will better meet our expectations.
There are several parameters that determine the quality, durability and resistance of the underlay. The key parameter for vinyl panels is the CS (compressive strength) parameter. This is the factor that determines how particular underlay withstands static loads. Value of CS is expressed in kPa. It is assumed that suitable vinyl flooring underlay should have a minimum value of 200 kPa, but the recommended value is 400 kPa. The higher value of the CS parameter, the better the underlay withstands heavy loads and absorbs them. Thanks to this, it protects the delicate panel locks against damage. It is also worth paying attention to the resistance to withstand dynamic loads affecting thickness of underlay, i.e. DL, which tells us about the dynamic load. The test consists of applying pressure to the backing cyclically with equal force. When the underlay is compacted by 0.5 mm under the influence of the force, the test is interrupted and the number of cycles that the flooring system has withstood determines its resistance. According to the standard, to pass this test underlay should stay in norm for at least 100,000. cycles.
The flagship test of floor systems, the so-called chair test is the most demanding test that determines the durability of the entire floor system – underlays and panels. It is used to test the parameters of materials during the simulation of real use. What does the testing method look like? A sample defined by the standard is prepared – a panel, underlay and wooden/mdf board as a carrier material. A specially constructed machine consisting of a rotating platform to which a flooring sample is attached is load with a weight of 90 kg through wheels of the appropriate type. The platform makes thousands of rotations, changing the direction of rotation every 60 cycles. To obtain a result that allows the sample to be assigned to a utility class of at least 32, the tested materials must withstand as much as 25 thousand cycles.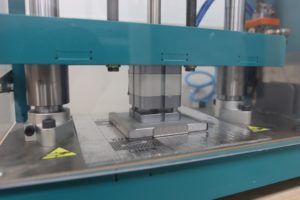 Another important parameter that should be taken into account when choosing an underlay is its sound insulation. We have two types of acoustic disturbance – radiated walking sounds (RWS) and impact sounds (IS). In the case of vinyl panels, manufacturers only provide impact sound insulation. This is due to the fact that the noise of steps is given as a percentage of how much a given material protects us against sound better than the control product – a PE foam underlay. PE foam is absolutely not suitable as vinyl flooring underlay , therefore, it does not make sense to specify this parameter in the case of underlays dedicated to vinyls. The Association of Producers of Multilayer Floors (MMFA) does not give any recommendation to the RWS test in the case of underlays vinyl flooring, and there is no specific test standard. It should also be emphasized that noise caused by radiated walking sounds is a problem faced primarily by laminate floors. There is practically no clatter in vinyl, and the flooring itself is so quiet that there is no need for such a test. Impact sounds, on the other hand, are those noises that penetrate the floor downwards and are heard in the room below. It is not possible to eliminate floor noise completely, but it can be significantly reduced by choosing the right underlay. The level of impact noise reduction (IS) related to penetration through the floor system and ceiling is given by manufacturers in decibels (dB). The higher the value, the better the product protects us from the annoying sound of footsteps in the room above us. The best underlays available on the market have an IS of approximately 20 dB. The level of noise reduction is measured using specially developed test methods (e.g. method EN 16205)
If we are finishing a commercial facility, the fire resistance class will be an extremely important parameter for us. When testing and determining the fire resistance of a floor system, the weakest link in the system is taken into account. As a rule, vinyl planks have the BFL fire resistance class – and are therefore completely non-flammable. Polyurethane-mineral underlays that can boast of this class. For commercial investments, we should look for underlays with the BFL S1 class. Other underlays are EFL-rated – so they do not burn spontaneously, but can sustain a fire.
Underlays with low thermal resistance – PUM ideal for vinyl flooring
Vinyl panels are the most frequently chosen material, apart from ceramic tiles, when installation of an underfloor heating system is planned at home. These relatively thin panels perfectly conduct heat and are therefore recommended for underfloor heating. However, we must remember that when we install vinyl panels with a click, their thermal conductivity will depend not only on the parameters of the panel itself, but also on the underlay we choose for it. Only the best underlay will ensure the comfort of using underfloor heating. A good underlay is a guarantee of a quiet, safe and effective floor in terms of underfloor heating. Therefore, it is not recommended to save on floor underlays as higher speding on underlay will return quickly in lower bills. Underlays dedicated to underfloor heating are characterized by a very low coefficient of thermal resistance. This means that by heating the house we can save a lot of money.
It is the underlay that determines whether the panels will be as good as the manufacturer promises. A good vinyl flooring underlay vinyl click panels can cost up to EUR 8 / m2. Is it worth investing so much? PUM (polyurethane-mineral) underlays have recently been wider available on the market. They are more resistant to pressure (rolled off the roll, they have a very large weight), thanks to which they protect the floor, but above all, thanks to a very low index of thermal resistance, they are ideal for underfloor heating.
The parameter we are interested in for this case is R – thermal resistance. If we have underfloor heating installed, we must reach for an underlay dedicated to such a solution. PUM (polyurethane-mineral) underlays are ideal for underfloor heating. The best of them have a thermal resistance of R-0.006 m2 K / W. The decision to choose a floor underlay is very important. Its properties determine not only the longevity of our floor, but also thermal and acoustic comfort.
What is the right underlay for vinyl panels?
As a rule, when choosing underlay, we should be guided by technical data, and if their interpretation is difficult for us, choose a product of a good manufacturer. European producers and brands such as Arbiton, Ewifoam or Afirmax guarantee that the underlays will meet the standards presented on the packaging. You should be very careful with products from Asia, from unknown production, because they are often not tested according to required standards and their properties are only declarative and have little to do with reality. Vinyl panels are thin products with precisely milled locks. Therefore, they require a dedicated underlay that will provide not only acoustic comfort, but also increase the efficiency of underfloor heating and effectively protect the locks of vinyl planks. A very good choice for vinyl flooring underlays are PUM underlays (polyurethane with minerals), they can be dedicated to underfloor heating, which, thanks to a very low thermal resistance coefficient, realistically reduce the costs associated with heating the house. Such a purchase is returned to us after a few heating seasons, not to mention the faster heating up time of the room. For vinyl panels, we should look for dedicated underlays, which are often additionally marked as Vinyl.
The offer of recognized producers includes underlays with the 3-in-1 system (underlay, foil, tape). These three elements are integrated, making the placement of the underlay child's play.
Recently, the PUM underlay has been introduced on a wider scale – which, thanks to its above-average hardness (CS – 550 kPa), allows you to lay a new vinyl floor directly on old tiles, the joints of which are of standard width and depth. It is the most resistant underlay to compression and kneading. It is a underlay that is dedicated especially to the latest generation vinyl panels – SPC / RIGID. Such underlay can be found in the Arbiton brand under the name Multiprotec Hardlay.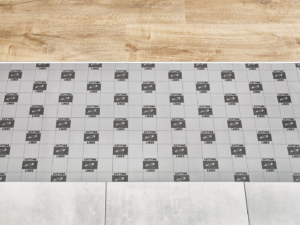 Some underlays are labeled "Antislip". This means that the underlay is equipped with a thin layer of glue. The task of this layer is to additionally support the stability of the floor system by preventing the panels from sliding over the underlay surface. It is up to the manufacturer of the vinyl panels that we have bought to decide whether such underlay is a necessity in our case or not. Therefore, before buying an underlay, we should check the manufacturer's recommendations for our panels.
And if we care about ecology, search and choose underlays with the Blue Angel sign. Three Arbiton underlays for vinyl click panels (Multiprotec Vinyl Click Antislip, Multiprotec Vinyl Click and Multiprotec Vinyl Click Hardlay) have received this most important and the oldest certificate for the world ecology. Ewifoam underlays for vinyl panels also have this prestigious certificate. When qualifying products, the following factors are assessed: saving of raw materials, reducing the amount of pollution, reducing noise, eliminating or reducing the amount of waste and the possibility of reusing it. Blue Angel is a signal informing the consumer that a given product is safer than other products of the same type. Underlays with the Blue Angel label have an extremely low emission level, ensuring a healthy indoor climate.
Which underlays for vinyl planks should be avoided?
First of all, products of unknown, hard to verify producers. The market is flooded with floor underlays imported from China, the properties of which do not meet absolutely any standards. They do not have technical data sheets and their use may not only damage our panels, but also seriously harm us legally (e.g. in the case of construction of commercial buildings). In addition, in the event of damage to the floor, the manufacturer's warranty will not protect us. That is why we should choose underlays of well-known, reputable European brands.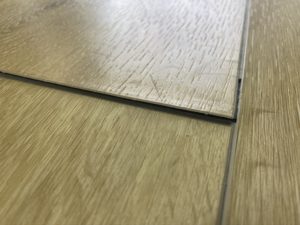 Secondly, you should absolutely beware of products that offer a panel with an integrated underlay and underlays made of PE foam. The 2-in-1 panels with a glued underlay appearing on the market are only seemingly comfortable. We are tempted by the ease of assembly. In fact, we get a medium-quality click vinyl plank and a very poor backing. Panels with an integrated underlay also do not provide adequate stability for the entire floor. The underlay does not protect the most sensitive elements of the panels, i.e. the locks – it is usually not under the connection at all. The underlay transmits the force and distributes it over a larger area. If the underlay glued under the panel does not absorb any force, all loads are compounded and damage to the floor can be done much easier. The offered underlays integrated with the panels, at majority of instances, are of very poor quality.
Does the underlay have to be of the same brand as the vinyl plank?
When choosing floor panels, we very often decide to buy an underlay from the same manufacturer. This is a shortcut that mainly sellers propose to us. Sometimes manufacturers make the validity of the warranty dependent on whether we use an underlay and, for example, floor accessories from one supplier. However, it is worth knowing that it is not legally possible to exclude the warranty due to the use of a underlay from another manufacturer. Of course, it must meet the standards set by the manufacturer of vinyl panels. As a rule, it is worth choosing vinyl planks from a company that is also a manufacturer of underlays. This means that a given manufacturer specializes in the production of floor systems, and spends a lot of time and energy on testing and improving its products. If we are dealing with a distributor, it can rather recommend a low-quality underlay, on which highest margin is generated. We should trust experts in specialized, independent stores or compare the properties of the foundation ourselves and follow objective criteria when choosing.
Good underlay for vinyl planks
A good underlay is just as important as the material from which it is made. This element should not be underestimated just because it is "invisible". Floor underlays play an outstanding role, thanks to which we can enjoy not only a beautiful floor for many years, but also reduce heating bills in real terms or enjoy the silence of the home. And what are the costs of underlays? The cheapest underlays for vinyl panels, which will fulfil their role and constitute a kind of compromise between quality and cost, cost about EUR 3-4 / m2 (eg Afirmax Vinyl Smart). The best products are the discussed earlier polyurethane-mineral underlays, eg Arbiton Multiprotec Vinyl. We then have to take into account the cost of EUR 6-7 / m2, but we have an absolute guarantee of quality.
There are many good underlays and they can be made in various technologies. The most important thing is that the underlay should be tailored to our needs.